Standard Operating Procedures. A critical, yet often neglected step in business efficiency improvement.
A critical, yet often neglected step in business efficiency improvement, is the final step – standardising the improvement. Standardising the improvement ensures it is sustained and prevents it from reverting to former, inefficient practices.
Your business systems are your assets – they are the gears and levers of your business. If these assets aren't captured and recorded then they don't physically exist. They only exist in the minds of you and your employees, which leaves the question of how many (if any) of your employees understand the correct version? It's easy to see how this can become a problem, especially if a key employee departs your business.
What is the value of your business to a buyer if these systems are not standardised and are not recorded?
---
The Value Pyramid   source: www.canadaone.com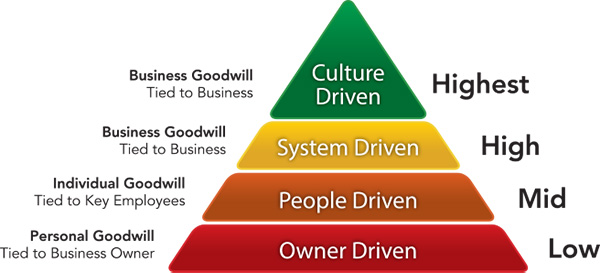 ---
The value pyramid, as depicted above, illustrates how a business climbs through levels of maturity. The more a business is driven by its systems, people, and the resulting culture, the less it relies on the owner for its value, and the more valuable and saleable it becomes.
The most common way to move up to the level of a system-driven business, is to capture processes by recording them as Standard Operating Procedures (SOPs). SOPs ensure that the organisation adopts a best practice approach to executing tasks in the workplace. SOPs are living documents that contain instructions describing the steps to follow for all activities under defined conditions.
SOPs can be created in hard copies and also online. Online formats offer the added flexibility of quick, on-demand retrieval. This allows all of the information to be kept in one place.
Making business efficiency improvements is easier when SOPs exist as a current state baseline is established. Once improvements are identified and implemented, SOPs must be updated to SECURE the improvement. This confirms that a new, improved baseline has been established, re-setting the platform for the next round of improvements.
What are the steps:
Analyse your existing procedural documentation
Organise your procedures into a standardised and user friendly format
Update existing procedures and write new procedures to make your SOPs current and complete
Make the SOPs accessible to all staff in a format that suits them, for example:

online and searchable
printed manuals
pocket guides
Protect your investment in people and systems by:
Having all your SOPs documented, up-to-date and complete
Maintaining your SOPs and changing them to reflect new procedures, systems, circumstances and regulatory requirements
Ensuring your staff have the knowledge to perform their tasks using best practice
Requires standard work & labour balancing as a prerequisite
Like all business efficiency improvement efforts, always keep in mind the purpose and the customer, when creating your SOPs.
A clear sign that you are entering the top level of the value pyramid in your business, is when your employees understand the value of business systems and begin creating SOPs without your instructions.
Download our Free PDF to learn more about Standard Operating Procedures (SOP). Contact us to find out how we can help you implement Standard Operating Procedures (SOPs) to help you achieve your business improvement goals.
Download our PDF to learn more about Standard Operating Procedures (SOP)
---
---